Style 1: An essential pearl necklace
A simple pearl necklace, used when matching a dress or cheongsam, has a proper sense of scale and existence without making too much publicity, showing women's noble and low-key beauty.
Style 2: Double pearl necklace
People love double pearl necklaces, a strong sense of design, with a bit of light luxury minority charm. A small crystal pearl, double chains superimposed, joined the luxurious gem inlaid, simple and elegant, full of intellectual vitality and senior sense.
Style 3: Double baroque clavicle necklace
Everyone likes lukewarm pearlite, retro high-class, with double layers to wear. The thin alloy chain will not overwhelm the pearl's light but highlights the light and agile posture.
Style 4: Pearl splicing hollow heart necklace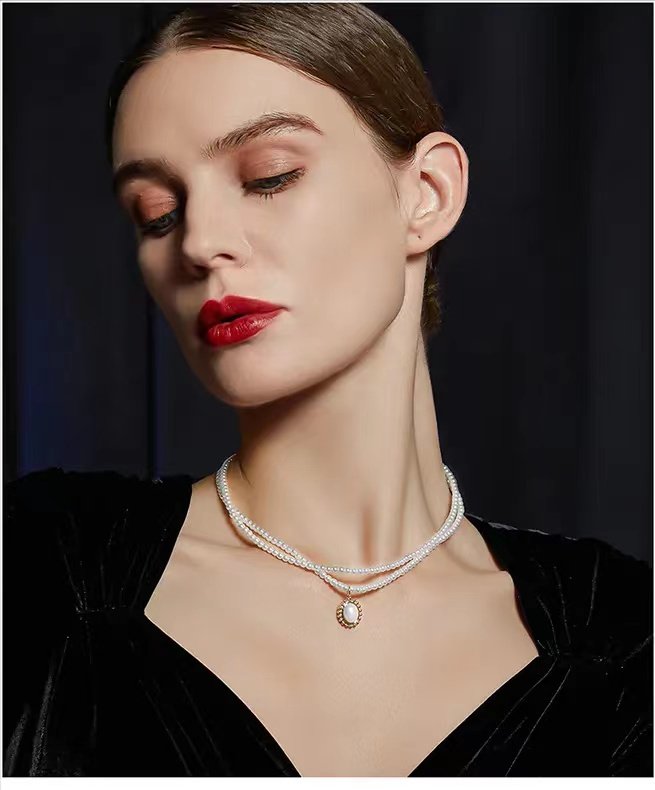 A multi-wear design combination, artificial pearl, and alloy splicing design, beautiful and elegant, plus a love pendant can be inserted into the sword and worn alone.
Style 5: Red crystal pearl necklace
The pearl particles are complete, uniform in size, and nearly round. Add red crystal ornament, enveloped in a kind of noble light, wear on the body, like the soft light lamp, the face is shining, sending out the excellent color. Red crystal, cut into water droplets, flashing purple light, with a mysterious and romantic atmosphere.
Style 6: Love heart freshwater small pearl necklace
As pearl necklaces are becoming more fashionable, tiny freshwater pearls are becoming more popular. Small pearl wins in delicate and delicate, small and charming, bring a kind of pure and fresh and sweet temperament, efficient on collocation, many scenes can wear, but recreational but grave.
Style 7: Bow pendant pearl necklace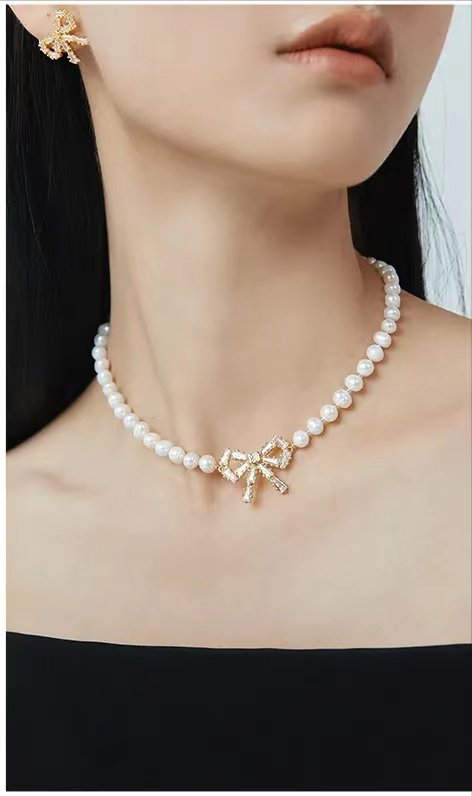 The combination of pearl and bow decoration immediately reflects the delicate and light luxury charm, full of advanced sense.
Section 8: Butterfly pearl clavicle chain
This style is more stylish and personalized, light luxury and niche double-layer design, with overlapping bow ornament and pearl holding, it is very matching.
Style 9: Camellia pearl necklace
Delicate and elegant, this classic pearl camellia necklace is simple and elegant. This string wears the upper body, the temperament of high elegance arises spontaneously, bright burnish lets a person cannot ignore, the aura is dyed-in.
Style 10: Swing pearl necklace
Four tiny freshwater pearls gathered together to form a small swing, bright and elegant. It can be ceremonious and casual. This earring design is simple, but with the beauty of lines, more refined and capable, it can be a good display of personality.
Style 11: Fancy three-layer freshwater pearl necklace
Tiny pearls can be more luminous than larger pearls, with a higher concentration and an almost mirror-like sheen. The pearl's bright glow is mesmerizing in a small delicate circle around the neck.
Style 12: Love crystal baroque pearl necklace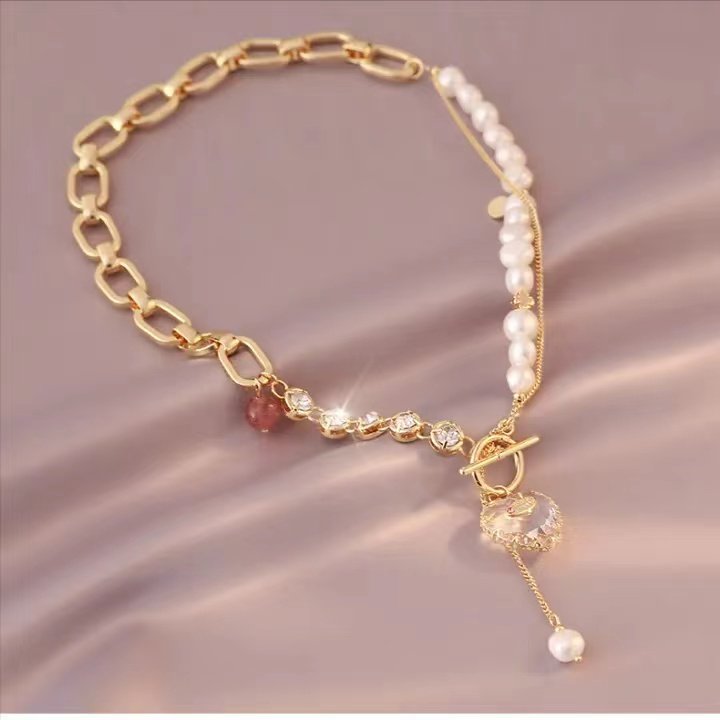 Compare individual characters fashionable design, love crystal, and pearl; alloy join together, a twinkle in clavicle burnish, foil gives fashionable atmosphere, tie-in dress is beautiful.
Style 13: Mini pearl necklace
Size is just right, string together three tiny pearls, contracted and refined design, fall on clavicle very delicate, do not painstakingly, do not pick a person, every match.
Style 14: Camellia pearl and diamond necklace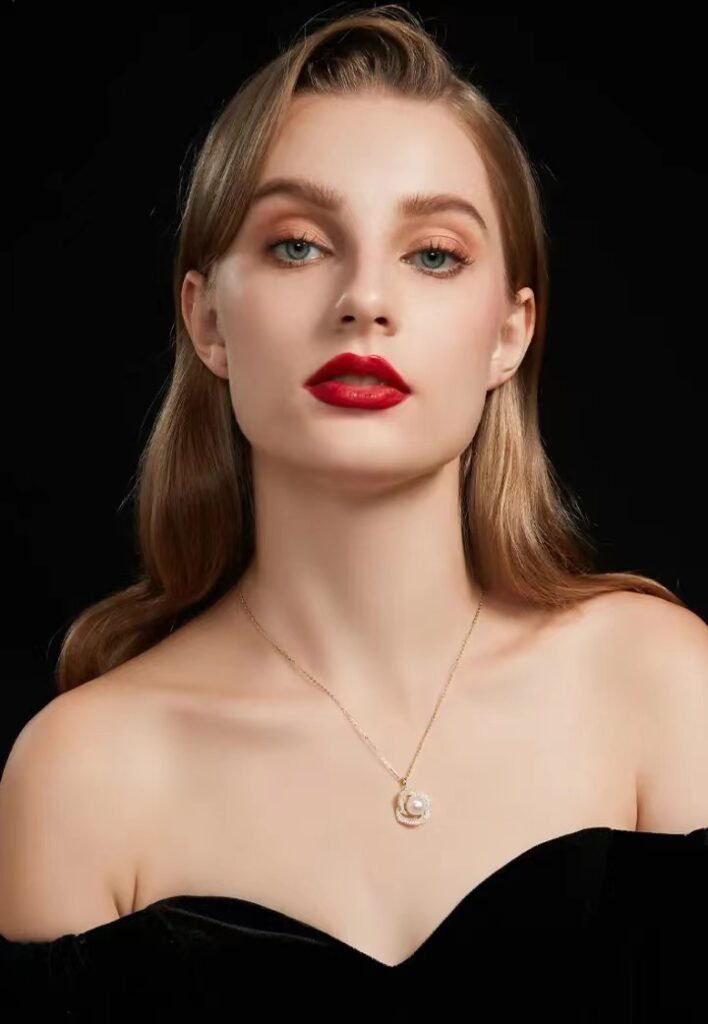 Pearl and diamond hand-inlaid, retro chic, noble and elegant, breaking the traditional design rules, exudes a dignified and charming atmosphere.
Style 15: Flower pearl necklace
Pearl and nephrite clever collocation, flower shape is not delicate, very suitable for attending a wedding or significant grand formal occasions.